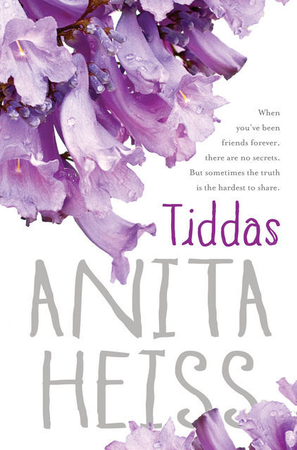 It seems apt during NAIDOC week to review Anita Heiss' new novel 'Tiddas'. I hadn't read any of Heiss' books before but I did have on my reading list her well received 2012 memoir 'Am I Black Enough For You'. Heiss writes a range of fiction and non fiction for adults and children. 'Tiddas' is her latest contemporary fiction, marketed largely towards women. I picked up a copy when I saw that Heiss was doing a talk at my local library and while I would not have normally gravitated towards this genre, I enjoyed it. Seeing the very genial and charming Heiss speak added to my appreciation for the novel.
As Heiss joked in her speech, her niche has been described by reviewers as 'chick lit featuring Indigenous chicks'. She is quite open in saying that she was looking for a gap in the market, and felt that the women's fiction she was reading did not reflect her experience as an Aboriginal woman. Her other novels, including 'Manhattan Dreaming' and 'Not Meeting Mr Right', were a great success, and good for Heiss, because I agree wholeheartedly that we need more diversity in main characters' ethnicity. I also enjoyed the fact that the main characters were women over thirty.
The novel centres around five women, three Indigenous and two white Australian, who have been friends since childhood growing up in Mudgee, New South Wales. The women are all close to, or turning forty, and are variously married, divorced, dating, pregnant or trying desperately to be pregnant. The novel moves back and forth through circumstance between their home town of Mudgee and their new homes in Brisbane: in fact, the best thing about this novel is the celebration of that city, which is rarely the feature of Australian fiction. Heiss lived temporarily in Brisbane to write this novel, and she paints the laid back city well for those who know it and those who would like to visit: 'On the way home after her usual nine-hour day, she'd stop at the Nepalese Peace Pagoda and feel the stress drain from her. If she felt strung out for any reason during the day she'd walk the length of the Grand Arbour and lose herself in the hundreds of bougainvilleas. It was too beautiful a place to remain angry or stressed'.
The women - Izzy, Xanthe, Ellen, Veronica and Nadine - hold their own book club to discuss novels, eat out, and catch up with each other. This conceit neatly brings the women together and allows them to discuss some larger issues while progressing the plot. The set up of the club, the references to Indigenous issues, and the exploration of some personal issues of the women - alcoholism, an unexpected pregnany, and infertility - feel a little forced in the first few chapters but once the reader is fully involved in the plot, the style of the novel flows more naturally. I was particularly glad that any stereotypes of single women, and Indigenous people, were avoided in this novel, and Heiss is contributing well to breaking down cliched literary portrayals. The novel is also resolved realistically which Heiss pointed out in her talk, as being personally important in showing real life to her readers.
The first standout character for me was Nadine, the novelist with a drinking problem, "As she grew more sober, Nadine was realising the incredible good fortune she experienced every day, unrelated to the actual fortune she had in the bank" - I can't pinpoint exactly why she felt like a strong character to me, but she had a bit of a hard edge that I found interesting. And the single Ellen, 'renodating' the hot chippies and electricians who came to renovate her house, was an engaging character as well. The title 'Tiddas' comes from the term meaning something close to 'sisters', your best female friends. It's a testament to the novel that when I finshed reading it, I immediately started looking in my diary to see when I could next see my own 'tiddas'. Heiss has negotiated with producers and sold the rights to 'Tiddas' to be made into a mini series: I think it will work very well on film and will fill another gap in that market.
*This review is part of the Australian Womens Writers Challenge 2014