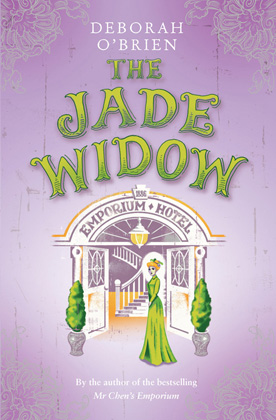 I've been listening to the great podcast produced by the Australian Writers' Centre 'So You Want To Be A Writer' -
http://www.writerscentre.com.au/community/podcasts/
. Every week they interview an Australian writer or publishing industry professional, and the conversations are often enlightening and enjoyable. In one recent episode they interviewed fiction writer Deborah O'Brien: to prove that publicity can work for authors, I picked up one of O'Brien's novels, the 2013 'The Jade Widow' since she was such a lovely speaker and sold the plot of her books so well. O'Brien has written three historical novels set in the fictional country town of Millbrooke circa 1850s. The novels are not on a continuum but are of the same ilk (with a few carry over characters), and draw on interesting historical times for women and immigrants, particularly with a rural focus.
From previous posts you will know that I am a fan of the Kerry Greenwood 'Phryne Fisher' crime series which could be described as quaint historical fiction as well, but it was the detective genre that led me to those novels. O'Brien's novel is more of the historical romance genre, and is very gentle, with an interest in looking at suffragette issues, but with none of the racy verve of Phryne Fisher. I would normally think from sight and description of this novel that it wouldn't be my cup of tea, but it was a charming read and kept me interested until the satisfactory conclusion.
The 'Jade Widow' in question is Amy Chen, widowed wife of Chinese immigrant Charles Chen: she has inherited his emporium business, so is not only a pioneering business woman in country town Millbrooke, she is also mother to twleve year old Charles, grappling with being mixed heritage in 1850s Australia. Amy's sister-in-law and best friend is Eliza, a feisty and energetic medical student, soon to be one of the first qualified female doctors in Australia. The novel follows their romantic assignations with two newcomers to the town, and the larger happenings of the Millbrooke community. Amy is a conservative, by-the-book sort of character: "There were times when Amy was drawn to the topsy-turvy world that Eliza espoused, where women were able to vote and Australia was one nation. Then again, it might be like falling down Alice's rabbit hole to a place where noone understood the rules and chaos reigned". Eliza is a lot more fun as a character and her outbursts of anger at the propriety of the other women are lovely:"'If we cannot use the word
body
without feeling embarrassed, said Eliza, 'how can we ever refer to our sexual organs by their correct names?'"
O'Brien's tone and level of historical detail is appropriate for this novel, and the pace is maintained. The inclusion of historical figures such as Henry Parkes and Tom Roberts added interest, but I thought the most evocative element was the descriptions of an elevator being built in Amy's new hotel. Word of an elevator built in England compels Amy to commission one to be built into her opulent new guesthouse, and the idea of people travelling in the wondrous compartment is novel and reminds the reader of so many firsts for our ancestors: "As the lift began its ascent, Amy felt her stomach rising inside her. Heavens above, what was happening? 'My goodness,' she said aloud. Then the feeling of weightlessness disappeared as suddenly as it had taken hold."
The male characters in the novel are fairly one dimensional and the romance is beyond gentle, but really the action is solely about the women, and I imagine that is entirely intentional by O'Brien. 'The Jade Widow' was a pleasant read: I may very well dip into O'Brien's latest novel 'A Place Of Her Own' to check in on Millbrooke, even though I would normally like a murder to shake up my country town drama.
*This review is part of the Australian Womens Writers Challenge 2014